Greensboro Criminal Lawyer, Personal Injury Lawyer, Family Law Attorney

Garrett, Walker, Aycoth & Olson, Attorneys at Law, PLLC, is the law firm you trust in Greensboro, High Point & Asheboro, NC. Our firm is spearheaded by former Guilford County Assistant District Attorneys, who bring extensive trial experience to your case at both the District and Superior Court levels. Well respected in the legal community, with three former Presidents of the Greensboro Criminal Defense Lawyers Association, our firm is here to represent you.
We treat every case that enters our office as if it were our own. We pride ourselves not only with outstanding representation in the courtroom, but also with understanding the wants and needs of each of our clients and working diligently to find a way to meet those needs. Our law firm is made up of attorneys for almost every practice area. Whether it's a Criminal Lawyer, Family Lawyer, Car Accident Attorney, Personal Injury Lawyer, Divorce Lawyer, Wills Attorney, Trucking Accident Lawyer, Traffic Ticket Lawyer, Felony Lawyer, Drug Trafficking Lawyer, DMV Hearing Lawyer, or a Workers Compensation Lawyer, our attorneys in Greensboro NC are here for you.
After a thorough consultation with you, we explore every possible avenue to success in your case. Success in the courtroom requires both mastery of the facts of the case and of the pertinent law. Let our law firm prepare for your case and shoulder your burden. After all, isn't that why you called us? Our lawyers in Greensboro NC are here for you. We look forward to speaking with you about your case and finding a creative solution for your legal issue. Our attorney in Greensboro is a zealous and compassionate advocate for our clients. Call a Greensboro Attorney at Garrett, Walker, Aycoth & Olson, Attorneys at Law, now, you'll see the difference.
Common Questions for our Lawyers in Greensboro, NC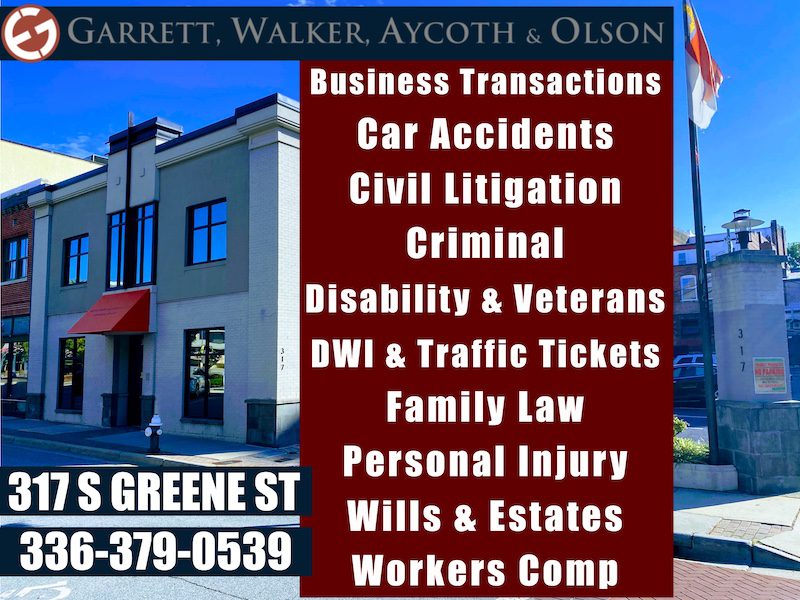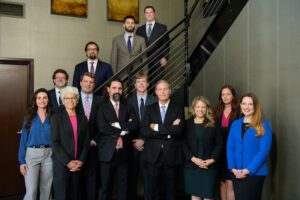 Greensboro, NC Law Firm
I Need a Greensboro Attorney, can you Help Me?
At Garrett, Walker, Aycoth & Olson, Attorneys at Law, our attorneys work across several different practice areas to be able to provide our clients as many legal services as they would ever need. Our Greensboro Attorneys are highly rated by the legal community as well as our clients. We focus on developing a full understanding of not just the issue you're facing, but also who you are. We want to get to know you so we can better serve you and represent your best interests. So, when it comes to needing a Greensboro attorney, we can definitely help you.
What can a Greensboro Attorney help me with?
The Greensboro Attorneys at Garrett, Walker, Aycoth & Olson, Attorneys at Law, handle cases across a number of different legal practice areas. Whether it's a recent car accident, divorce, criminal charge, will, speeding ticket, DWI, or a workers comp case, our lawyers in Greensboro do it all! We're here to help and here's a list of the Greensboro Attorneys who work at our law firm:
Car Accident Attorney
Criminal Lawyer
DWI Attorney
Family Law Attorney
Personal Injury Lawyer
Traffic Ticket Attorney
Wills & Estates Lawyer
Workers Comp Lawyer
How can a Greensboro Attorney help me with my situation?
This is a great question and one our lawyers receive all of the time. Our Greensboro Attorneys focus in different practice areas so we can best equipped to help you with your case. Every court system in North Carolina is different. We understand the procedures and nuances of the court systems we practice in. We have Greensboro Attorneys, High Point Lawyers, and Asheboro Attorneys who work at our law firm. If it's a civil case, the rules will be totally different from Greensboro to a neighboring county. Understanding the rules and procedures of the court system where you have your legal situation is vital to success. Our Greensboro Lawyers work together in collaboration on cases so that way you're not just represented by a single lawyer, but rather you have an entire legal team. We stay up to date on the latest changes to the law, so that way we're better prepared to handle whatever novel legal issue may come your way. With some cases we can go to court for you, so you aren't inconvenienced by the court process. Our Greensboro Attorneys are here to help, and when it comes to your situation we'll do everything we can to make the legal process is easy on you as we possibly can. After all, isn't that why you were looking for an attorney in the first place?
How much does a Greensboro Attorney cost?
At Garrett, Walker, Aycoth & Olson, Attorneys at Law, our fees vary based on the area of practice you need help with. The fees are set by the Greensboro Attorney who is handling your case. If it's a criminal case, our lawyers are hired at the onset of the case and paid up front. For family law, we generally do a consultation fee, to get an idea of where you're coming from, provide initial advice of what direction your case may be headed, and then from there our Greensboro Family Attorneys charge a retainer fee. From that retainer fee, our Greensboro Attorneys bill for their hourly work. As for our Greensboro Car Accident Attorneys, they don't charge a fee, but rather we receive what's called a contingency fee. We don't make a dime unless you recover. For a Will, our Greensboro Will Lawyers charge a drafting fee. If you have a traffic ticket, our traffic ticket attorneys quote a flat fee for representation. There's no extra charge for continuances, as some firms do, but rather it's one fee to handle your speeding ticket. At Garrett, Walker, Aycoth & Olson, Attorneys at Law, our lawyers do everything they can to help you with your case and we set reasonable fees to better be able to assist you with your legal needs.
Where can I find the best attorney in Greensboro?
When it comes to the best Greensboro Attorney, that little nugget always lies in the eye of the beholder, but we can promise you our lawyers will do their very best to give you the best result we possibly can. There's a number of online publications that include reviews. For instance, a number of the Greensboro attorneys at our law firm our rated as Super Lawyers, which is peer reviewed with multiple legal criteria. These are the top 2.5% of lawyers in the country. We also have a number of attorneys who have received 10.0 on AVVO which is an attorney rating service. On Google our law firm has 225+ reviews with an average rating of 4.9 / 5 Stars. Also, our law firm was voted in YES WEEKLY as on of the top law firms in the triad. Our Greensboro Attorneys do everything they can to help each and every client who enters our office. We're here for you! Come and see the Garrett, Walker, Aycoth & Olson, Attorneys at Law difference!
Should I represent myself or hire a Greensboro Attorney at Garrett, Walker, Aycoth & Olson, Attorneys at Law?
For starters, our Greensboro attorneys cannot provide advice on what one should do about an attorney. However, we know the court system and the people who work in it. We have over 100 years of collective legal experience. We've been practicing in Greensboro, High Point & Asheboro for decades. We know how to fight for you and we know the moving parts within the court system, let a Greensboro Attorney at our law firm shoulder your burden, so you can focus on the things you need to.
Can a Greensboro Attorney at Garrett, Walker, Aycoth & Olson, Attorneys at Law help me if I have another legal issue come up?
Luckily for you, our law firm is well versed across so many different areas Our attorneys in Greensboro are ready to tackle almost any legal issue you can throw at us. Whether it's a recent car accident and you need our attorneys to deal with the insurance company, criminal charges and you need our lawyers to fight for your rights with the district attorneys' office, a divorce filing and you need our family lawyers to protect you, your family and your financial future, a workers comp case and you need our Greensboro Attorneys to protect your recovery, or you need our Greensboro lawyer to help you prepare your will, our lawyers are here for you and your family when you need us most!
What it the location where I can find a Greensboro Attorney at your law firm to help me?
Our law firm is located at 317 S. Greene St, Greensboro, NC 27401. Our phone number is 336-379-0539. We're located directly across the street from the Carolina Theater in downtown Greensboro. Our lawyers in Greensboro are here to help you with your legal situation call today and see the Garrett, Walker, Aycoth & Olson difference
Criminal Lawyers Greensboro, NC
DUI Lawyer
Whether it's a Driving While Impaired charge or a routine traffic ticket, misdemeanor and infraction level traffic charges can hamper a person's ability to drive. Our DUI lawyers in Greensboro, NC, focus on finding ways to protect your driving record to ensure your DUI case has the best result possible. Our drivers license lawyers understand all of the nuances connected to driving privileges and license restoration and we will be able to discuss with you your priorities and then create an effective plan to achieve your desired results. We have tried more DWI charges than one can count, we've handled speeding tickets well into the 100's, and whether it's driving on a revoked license, or a minor registration ticket, speak with our traffic ticket attorneys so they can advise you on the best method for protecting your ability to drive. Learn more about DUI Lawyer
Misdemeanor Lawyer
Misdemeanors often can be brushed to the side because to some they seem like minor situations, however, a criminal conviction for a misdemeanor can have a severe impact on your job, they can impact your plans for higher education, and certain government benefits require a clean record and not being on probation for them to continue to be received. We all make mistakes, but it should be something that haunts you for the rest of your life. Our misdemeanor criminal lawyers in Greensboro, NC, do everything they can to keep a clean record clean. Whether it be a misdemeanor assault charge, or a possession of marijuana, our lawyers in Greensboro will fight for you. We also handle larceny and shoplifting charges, because sometimes people make mistakes, and the consequences of those actions can be severe. Learn more about our misdemeanor lawyers: Criminal Lawyers Greensboro NC 
Felony Lawyer
Felony charges can have all sorts of long term ramifications for a person's life. Our felony lawyers in Greensboro, NC, understand this, and also are fully aware of just how important it is to have an experienced team of criminal defense lawyers on your side. Our felony lawyers focus on navigating the waters of high level felony cases by working through each step of the criminal process. Our law firm features three former district attorneys who will fight tooth and nail to protect you from a felony conviction. Our law firm has been successful trying hundreds of felony cases, and has had our clients found not guilty in felony charges all the way through first degree murder. Every situation is unique and we encourage you to learn more about our felony attorneys in Greensboro as well as possible defenses to your charges here: Greensboro Criminal Lawyer
Expungement Lawyer
We've all done things we regret, but it shouldn't haunt you for the rest of your life. Our expungement lawyers are fully aware of the latest legislative updates to allow for prior dismissals and even criminal convictions to be expunged. Expungements are like taking an eraser to your record as if the situation didn't happen. Even dismissed cases will still show up on a background check, unless the charges have been expunged. In North Carolina, the law is constantly being updated, and what may not have been expunge able last year, may be this year. Our expungement lawyers are familiar with those updates and expunging situations where your identity was stolen, your case was dismissed, or you had a misdemeanor or felony conviction some years back. Learn more about expungements and how they operate by clicking here: Expungement Lawyer
Felony Lawyers Greensboro, NC
DRUG TRAFFICKING LAWYER
Drug Trafficking cases are some of the most complex in the entire criminal justice system. Our Greensboro Drug Trafficking Lawyers pride ourselves on being able to help clients with trafficking cases where they're looking at mandatory time in custody. We focus in possible suppression issues, whether it be an issue with the stop or the search, and then we find a way to first utilize those issues as a way to negotiate an opportunity for your case. We also take to trial a lot of drug trafficking charges in Greensboro, NC, and we do everything we can to get our clients the best possible result. Our drug trafficking attorneys in Greensboro, NC are here to help you and if you'd like to learn more about our Greensboro Drug Trafficking Lawyers click here: Drug Trafficking Lawyer Greensboro, NC
FIREARM BY FELON LAWYER
Our firearm by felon lawyers in Greensboro, NC have devoted their careers to helping our client with firearm charges in and around Greensboro, NC. Firearm by felon charges are nothing to play around with as Greensboro has been cracking down on gun charges locally. If you or a love one has received a possession of a firearm by a convicted felon charge and is currently dealing with a firearm hold, we recommend you speak with our top rated firearm hold lawyers in Greensboro, NC today. Firearm by felon charges often focus on issues surrounding possession, such as actual vs constructive possession. Often this charge is included with a carrying a concealed gun charge. If there is more than one person around and the gun is not on you, chances are it's a constructive possession of a firearm case and one that perhaps we could create an opportunity for you with. To find out more about our Greensboro firearm by felon lawyers click here: Firearm by Felon Lawyer Greensboro, NC 
FELONY LARCENY LAWYER
Larceny and theft crimes, including shoplifting make up a vast amount of the cases our criminal defense lawyers in Greensboro, NC deal with on a regular basis. Felony larceny is charged due to the amount stolen and generally is reserved for situations where someone is alleged to have taken a more expensive item such as a lawn mower, refrigerator or something along those lines. Often misdemeanor larceny charges are reserved for minor theft crimes, and shoplifting is reserved for cases where the person is caught putting something in their pocket in a store. To find our more about larceny charges in Greensboro, NC, click here: Greensboro Larceny Lawyer
FELONY DRUG LAWYER
Felony drug charges cover such a variety of different drugs along with drug quantities that it's hard to contain all of it in a simple blurb. Felony drug charges are difficult because of the risk associated with having a felony charge on your record. Our lawyers routinely handle felony possession of drugs charges, as well as possession with the intent to sell and deliver marijuana charges in Greensboro, NC. These charges are quite common, and we find that law enforcement will often charge possession with the intent to sell and deliver marijuana even though the total quantity is less than an ounce and there's really no evidence of selling marijuana. To learn more about marijuana charges click here: Greensboro marijuana lawyer. And to learn more about cocaine charges click here: Greensboro Cocaine Lawyer
Bond Motion Lawyers Greensboro, NC
BOND MOTION LAWYER
Our bond motion lawyers are second to none when it comes to finding a way to get bonds that people can't make reduced to something more reasonable. Our Greensboro bond motion lawyers know exactly what to argue and what to present to the court in order to provide an opportunity for your bond to be reduced to something far more manageable so you can get out and get back to taking care of your family. We setup jail visits with our clients prior to hearing a bond motion so we can all be on same page before we address bond in front of the judge. The two main issues they look at when hearing a bond motion is are you considered a flight risk and are you a danger to the community. Our top rated bond motion lawyers in Greensboro, NC, know how to present this information in a way to provide you the best possible opportunity to have your bond reduced. To learn more about bond motions click here: bond motion lawyer Greensboro, NC
FIRST APPEARANCE LAWYER
First appearances are a key part of the criminal justice system. After you've been arrested, you will initially will go in front of a judge who will either set a secured bond, put you under a firearm hold or a domestic hold, or allow for you to be released. If the magistrate sets a bond you're not able to get out on, then the next business day you will have your first appearance. Our top rated first appearance lawyers in Greensboro, NC, understand just how important it is for you to be able to get out and get back to your family and go to work. If you don't hire an attorney for a first appearance you often have to wait until a bond motion to next address bond. The dilemma with his is it takes time and this is why we recommend you speaking with our first appearance attorneys in Greensboro, NC as soon as possible so we can attack those issues and get you out as quickly as possible. To learn more about first appearance click here: Greensboro first appearance lawyer
DOMESTIC HOLD LAWYER
Did you know in Guilford County, that a magistrate is likely to place you under a domestic hold if you're charged with assault on a female, simple assault or domestic violence. A domestic hold will prevent you from being able to bond out and for a majority of case a Guilford County magistrate judge will give you a domestic hold when you come before them. A domestic hold lawyer in Greensboro, NC will argue to have you released as soon as possible. Domestic holds are frustrating and only a judge at that point will be able to set a bond that allows for your release. This is why it's vital to speak with a top rated domestic violence lawyer in Greensboro, NC as soon as possible. To learn more about domestic holds click here: Domestic Hold Lawyer Greensboro, NC
FIREARM HOLD LAWYER
Firearm holds are some of the most painful and frustrating bond situations in the entire court system because you can't bond out until the firearm hold is removed. This makes it tough as firearm holds can keep you in custody for quite a bit of time until your case is addressed by a judge at either your first appearance or via a bond motion. Our top rated firearm hold lawyers focus in on the issues surrounding your case, your job, your family, and a host of other things with the goal being to have the hold removed and a reasonable bond set. Our top rated firearm hold lawyers are prepared and ready to help you and to learn more about firearm holds in Greensboro, NC click here: Greensboro firearm hold lawyer
Personal Injury Lawyer Greensboro, NC
Car Accident Lawyer
Being injured in a car accident is bad enough, but then you have the pleasure of dealing with insurance companies. Our car accident lawyers in Greensboro NC, are extremely motivated to fight that fight for you. Car accidents don't just damage your car, and your body, accidents can cause you to take time off of work, not being able to transport your kids to school or recreational activities. Allow our auto accident attorneys to take care of this burden for you. Our consultation is free, and we don't earn a penny unless you recover for your personal injuries. Our car accident attorneys will work tirelessly to help you, and we will fight for your case as if it's our own. North Carolina is a contributory negligence jurisdiction, so please do not speak with an insurance company before speaking with our accident attorneys. We're here to help you and make sure you're in the best situation to recover for your injuries. Learn more about Car Accident cases.
Motorcycle Accident Lawyer
Motorcycle accidents are some of the most dangerous accidents in North Carolina. Sadly, the injuries are severe and most are in a situation of needing family and friends to assist with helping them through the recovery process. Our motorcycle accident lawyers in Greensboro NC understand the danger that a motorcycle wreck represents, and we also know how to push things in the right direction to maximize recovery for our motorcycle riders who are involved in wrecks. Motorcycle accidents involve serious injuries, and with the sheer number of distracted drivers on the road it's vital you speak with an attorney in Greensboro who cares about you, your injury, and your recovery to ensure that you're made whole after a motorcycle wreck. Common personal injuries include bone breaks, ligament tears, soft tissue damage to the back and road rash. To learn more about how we can help you with a motorcycle accident, click here: motorcycle accident.
Slip & Fall Lawyer
Who hasn't had a slip and fall in their life? It's a common thing to stumble around, and have some issue with mobility, but sometimes it's not our fault. Our slip & fall lawyers work on situations where property owners and businesses don't provide a safe environment for people to be on their property. If a personal injury is caused by a hazard or a defect on the property, it very well could result in a successful claim for the injury you suffered. Slip & Fall claims can lead to the recovery of what's termed damages, which are things such as medical expenses, pain and suffering and lost wages that were caused by the injury. Our lawyers in Greensboro NC spend countless time helping clients with these situations and we would honored to help you with yours. To learn more about slip & fall cases, click here: Slip and Fall
Wrongful Death Lawyer
Death is one of the, if not the absolute most difficult thing we can encounter. But if the death is due to someone else's negligence, it only confounds the problem. Our wrongful death lawyers in Greensboro NC are focused on assisting families every step of the way when their dealing with the loss of a love one due to someone's negligence. Wrongful death actions involve finding the other party responsible for their actions that led to your loved ones demise. Our injury lawyers are focused on obtaining the funds necessary to compensate families for hospital bills, funeral expenses, and to assist with lost wages as a result of the situation. Losing a love one is hard enough to deal with, let our Greensboro wrongful death attorneys shoulder this burden with you. To learn more about wrongful death cases, click here: Wrongful Death
Family Lawyer Greensboro, NC
Divorce Lawyer
The process of going through a divorce can be one of the most difficult and emotionally taxing situations a person ever goes through. Our divorce lawyers in Greensboro NC understand what you're going through, we are fully aware of the stress that comes with a separation and divorce, and we are prepared to do whatever it takes to remove the strain and burden of your divorce. The law in North Carolina concerning divorce is that before you can even file for divorce you must be separated from your spouse for a minimum of one year. This leads to a hold-up in North Carolina on divorce proceedings, as our state hopes that this extra time will cause a couple to reunite. To learn more about divorce cases and how our law firm can help you, click here: divorce lawyer Greensboro
Child Custody Lawyer
Child custody arrangements are typically some of the most contentious situations in the entire Greensboro court system. Our child custody lawyers in Greensboro, NC, understand how important your child's future, and your future with you child is to you. Our Greensboro child custody attorneys will work with you to find if there's some agreement that can be made between you and your spouse, and if not then we may be headed to litigation. Our law firm features two North Carolina Board Certified Specialists in Family Law and we are beyond prepared for whatever opposition may come our way. Before litigation is mediation and sometimes a mediator will be able to create a workable plan. To learn more about child custody cases click here: child custody lawyer
Separation Lawyer
The first step in the divorce process in North Carolina is Separation. Our separation lawyers in Greensboro, NC, know how vital step is to your future divorce. If you're yet to separate, it's vital to speak with our family lawyers in Greensboro so we can advise and explain what to expect over the course of that year. Our law firm will work with you on a separation agreement if it's something that is feasible between you and your spouse. In a lot of separation discussions, you can negotiate and create a plan well prior to the period for divorce being reached. To learn more about Separation and Separation agreements, click here: separation lawyer
Domestic Violence Lawyer
Domestic violence is sadly, more common than one may think. Our domestic violence lawyers in Greensboro NC will work with you to either defend against a 50B or help you to have a protective order put in place. Domestic violence involves often a criminal and a family law aspect, and our law firm is well-versed in both practice areas and will be able to handle everything you're dealing with on the domestic violence side of things. The goal of a 50B is to protect people who are victims of domestic violence, and to protect them from being victims again.To learn more about domestic violence and 50B's click here: domestic violence lawyers in Greensboro
Traffic Ticket Lawyer Greensboro, NC
Speeding Ticket Lawyer
If you received a speeding ticket in Greensboro, you've come to the right place. Our speeding ticket lawyers in Greensboro NC know just how vital the positive resolution of a speeding ticket can be to protect your license and save you from an increase in insurance rates. Our Greensboro speeding ticket lawyers actually write the book on how to handle traffic tickets for lawyers in North Carolina. Our speeding ticket attorneys know when it's best to find a reduction to an improper equipment and when it's best to seek out a prayer for judgment continued upon payment of court costs also referred to as a PJC. To learn more about speeding tickets, click here: speeding ticket lawyer 
Driving While License Revoked Attorney
A revoked license can lead to a barrage of traffic tickets connected to driving while license revoked. If your license is revoked and the car is registered in your name, law enforcement can see that detail and will most likely find a way to pull you over for a traffic violation. Our driving while license revoked lawyers in Greensboro NC find ways to navigate revoked license cases, because if convicted it can hinder your ability to have your drivers license being restored. We often try to find a way to convince a district attorney to reduce your DWLR to a fail to notify DMV of an address change, which protects your ability to get your license renewed. To learn more about Driving While License Revoked click here: Revoked License Lawyer
Stop Sign & Red Light Ticket Lawyer
Are you dealing with a rolling stop or did you just not have time to do and the road was clear? Stop sign and red light tickets are extremely common, and our stop sign tickets in Greensboro know the importance of not having a conviction for one of these traffic tickets on your driving record. Paying off these tickets adds points to your driving record, and it's vital you speak with one of our traffic ticket attorneys in Greensboro before taking any steps in that direction. To learn more about stop sign and red light tickets click here: traffic ticket attorney
Driver's License Restoration Lawyer
One of the areas our traffic ticket lawyers pride themselves in the most, is helping people to have their drivers license restored. Our license restoration attorneys in Greensboro will go through your driving record to find out exactly what's holding your license up and the steps it's going to take for you to get it back. We also handle DMV hearings for people who have their license revoked due to a prior DWI or who have had another traffic violation that has put a hold on their driving privileges. To learn more about drivers license restoration click here: Greensboro traffic ticket lawyer
LAWYER POSTS
Greensboro Criminal Lawyer, Personal Injury Lawyer, Family Law Attorney
Garrett, Walker, Aycoth & Olson is a criminal defense, family law & car accident law firm. Our Greensboro lawyers will do everything they can to help you
If you have any question please CONTACT  Us Email us at:  tim@timroselaw.com Call US :(281) 697-4550
Don't Forget to Visit our Our Services