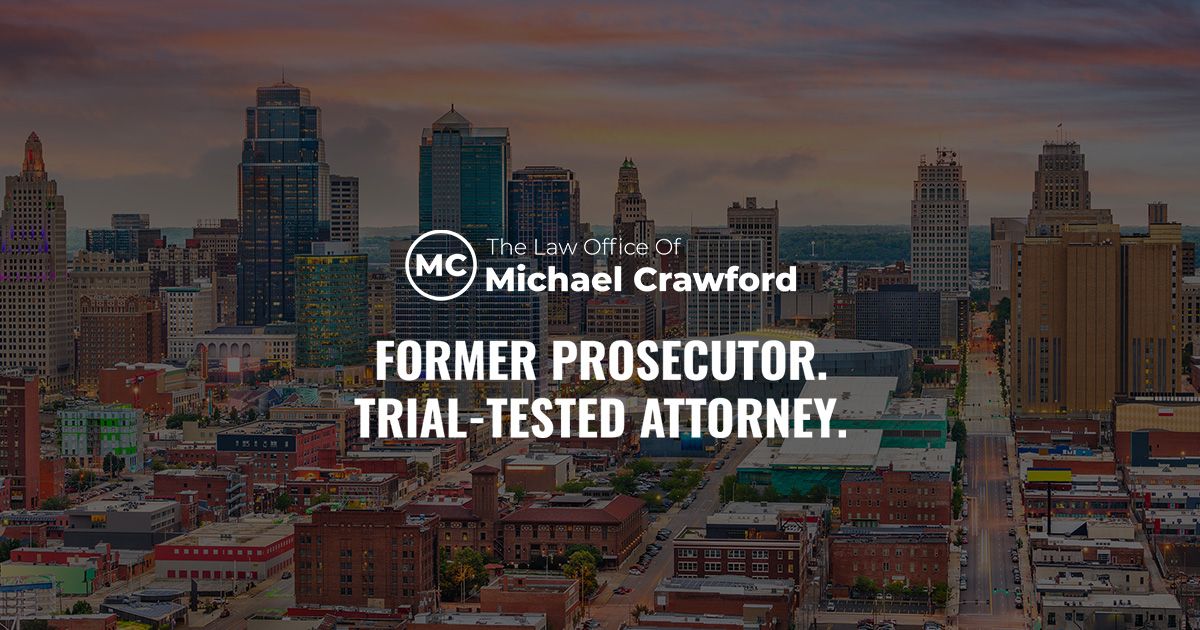 Defending DUI Charges in Missouri & Kansas
A DUI conviction carries serious criminal sentences that can leave you without a driver's license and shouldering heavy criminal consequences. Your future depends on your ability to tell your side of the story in a compelling way. Our Kansas City DUI attorney at the Law Office of Michael Crawford can help you. As a former prosecutor, our Kansas City DUI lawyer understands how to defend against these charges, and we are prepared to stand by your side throughout the proceedings.
What are Missouri's & Kansas' Zero Tolerance Law?
It is important to note that both Kansas and Missouri are "zero-tolerance" states, meaning it is illegal for any driver under the age of 21 to drive a vehicle while having a blood alcohol concentration of .02% or higher.
What are the DUI Laws in Kansas?
According to Kansas law, a person can be charged with driving under the influence if:
The person was driving a vehicle and had a blood alcohol concentration of .08% or higher
The person was incapable of driving a vehicle safely due to the effects of drugs or alcohol
Are you facing a DUI charge in Kansas City? Our Kansas City DUI attorney is ready to represent you. Call the Law Office of Michael Crawford today at (816) 945-4930 or contact us online to start your defense!
What are the Penalties for a First DWI in Missouri?
A first offense DWI in Missouri carries the following possible penalties:
Up to 6 months in jail
Up to $1,000 fine
30-day license suspension
60-day restricted license
It is illegal to drive with a blood alcohol content of .08% or more. If you are arrested for DUI and are later convicted, you will likely face the consequences of time in jail, steep fines, temporary loss of your license, and more. The penalties get increasingly more severe if you have had prior DUI convictions in the past. The penalties for a first offense DUI are severe. That's why it's crucial to call a Kansas City DUI attorney as soon as possible if you've been charged with a DUI.
What are the Penalties for a Second DWI in Missouri?
In Missouri, the penalties for a second offense DWI can include:
Up to 1 year in jail
Up to $2,000 fine
5-year revoked license
Minimum 6 months installation of ignition interlock device
What are the Penalties for a Third DWI in Missouri?
If you are convicted of a third offense DWI in Missouri, the penalties may include the following:
Up to 4 years in jail
Up to $10,000 fine
10-year revoked license
Minimum 6 months installation of ignition interlock device
Is a DUI a Felony in Missouri?
In Missouri, crimes are considered a felony when they result in a fine of at least $1,000 and a minimum imprisonment of one year. You could be charged with a felony DUI for the following reasons:
Third DWI – a third DWI is a felony, even if you received the prior DWIS from another state, you can face felony charges for the third DWI.

Prior Felony DWI – If you have been convicted of a prior felony DWI anytime in the past, you can be charged with a felony DWI

DWIS leading to death or injury. Cases that lead to death or serious injury are the most serious DWI charges and the most severely punished.
Can a DWI be Expunged in Missouri?
A DWI offense can be expunged if it happened at least 10 years ago and you have since kept your record clean. Expungement is a complex legal process with strict criteria and many barriers. A DWI on your record may show up when potential employers or other parties perform a criminal background check. While it may seem like ancient history to you, the conviction can cause problems for employment, professional licenses, military service and even volunteer activities. Missouri has also instituted a lifetime look-back. This means that a DWI at any time in your past counts as a prior offense. Under the Missouri Revised Statutes, first-time offenders may be eligible to have an old conviction expunged (wiped from their record).
Is There a Statute of Limitations on DWI in Missouri?
In Missouri, the statute of limitations on DWIs can be 1 year for a misdemeanor DWI or 3 years for a felony DWI.
Can You Get a DWI on Private Property in Missouri?
You can get a DWI on private property in Missouri. You can get a DWI while driving a vehicle on a highway, private roads, parking lots, local roads, and more.
What Happens if You Refuse a Breathalyzer in Missouri?
If you refuse a breathalyzer or take the alcohol and drug test, your driving privilege will be revoked for one year. This is known as a "Chemical Revocation". If you would like to get your license back after refusing a breathalyzer or drug test, you can do so by getting a SR-22 form and you must also show proof that you completed a Substance Awareness Traffic Offender Program (SATOP). Once you file a SATOP, get an SR-22, and pay $65 you can now reinstate your driver's license.
Defense Strategies for DUI Cases
Once you are arrested for impaired driving, the clock starts ticking for you to plan an effective defense. Prosecutors will do everything they can to ensure you are convicted of the allegations against you, and if you do not successfully fight for your rights, they could be taken from you. Our Kansas City DWI lawyer understands the importance of analyzing the evidence against you. We know how to help you.
Our firm has helped clients get reduced or dropped sentences through strategies such as:
Proving the police officer obtained evidence in an unlawful way
Questioning the efficacy of sobriety testing equipment
Making plea bargains that keep our clients driving
Demonstrating that the driver was under duress to drive while intoxicated
There are other strategies our Kansas City DUI attorney might use. Your best option is to speak with us right away and get started planning your case.
Contact a Skilled Kansas City DUI Attorney Today
The more time your legal team has to review the charges and evidence filed against you, the better your chances will be of a favorable outcome. Do not wait until you are forced to appear in court before hiring an effective Kansas City DUI lawyer.
Contact the Law Office of Michael Crawford today at (816) 945-4930 or online to schedule a FREE consultation with our Kansas City DUI attorney!