The Knock and Talk as An Investigative Tool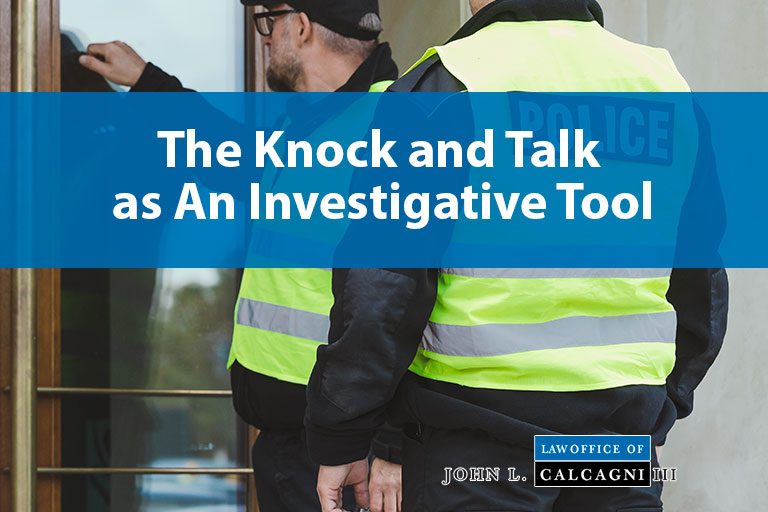 March 7, 2023 | John L. Calcagni, III
Law enforcement agents utilize various tools, tactics, and procedures to conduct criminal investigations.   
Examples include, but are not limited to:
search warrants, 
physical and electronic surveillance, 
trash pulls, 
witness interviews, 
wiretaps, 
GPS monitoring devices, 
interrogations, 
pole cameras, 
informants, 
and more.   
A modern investigative tool that appears to be growing in popularity is referred to as a knock and talk.
What is the Knock and talk investigation tool?
A knock and talk occurs where investigators visit a crime suspect's home to inquire if he will voluntarily speak with authorities.   
Whenever police conduct investigations, they must follow certain rules.  If the rules are violated, the information or evidence gathered during the investigation may be inadmissible in a court of law.  
For instance, prior to detaining a suspect for questioning, police must have reasonable suspicion to believe criminal activity is afoot.  
Further, before conducting a custodial interrogation, police must first advise a suspect of his Miranda rights and then obtain a knowing, voluntary, and intelligent waiver of those rights.   
Why is police using the knock-and-talk method?
The knock and talk allows police to approach a suspect for questioning without having to comply with these procedural requirements.  
A knock and talk is a voluntary encounter between police and suspect.   Because the encounter is voluntary, police may not use any force or showing of authority to cause the suspect to participate in questioning.    
The knock and talk does not involve any detention or arrest.  If the suspect does not wish to speak with police or remain in the presence of police, he may terminate the encounter by asking police to leave his home.   
Is reasonable suspicion or probable cause required?
Reasonable suspicion or probable cause are not required before police may knock on a suspect's door to ask questions.  Similarly, a knock and talk does not equate to a suspect being in police custody.  
Is police required  to read my Miranda rights?
Therefore, the Miranda rights advisement is not required before or during questioning.  The entire encounter is meant to be 100% voluntary and may be terminated by the suspect at any time.
If police knock your door and seek to question you, you are free to talk.    You are equally free to decline to speak and ask them to leave. 
What should you do if you believe you are under investigation?
If police knock on your door for questioning, leading you to believe you are under investigation, you should consult with an experienced criminal defense lawyer immediately.   
Most often, police will conduct the knock and talk when they do not have sufficient evidence for an arrest, hoping the suspect will freely speak with them.   Law enforcement agents also use the knock and talk, hoping to both gain a suspect's trust and recruit his cooperation against others under investigation.   
If you, a friend, or a family member have recently experienced a knock and talk with police, contact Criminal Defense Lawyer, John L. Calcagni III, for a free consultation at (401) 351-5100.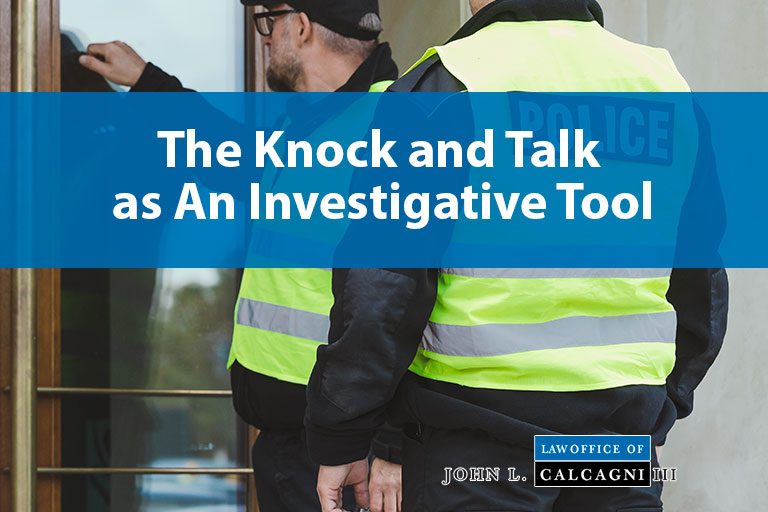 The Knock and Talk as An Investigative Tool
Learn about the knock and talk technique used by law enforcement as an investigative tool. Calcagni Law can help protect your rights.
If you have any question please CONTACT  Us Email us at:  tim@timroselaw.com Call US :(281) 697-4550
Don't Forget to Visit our Our Services