Trump criminal defense attorney in Alvin Bragg crosshairs over possible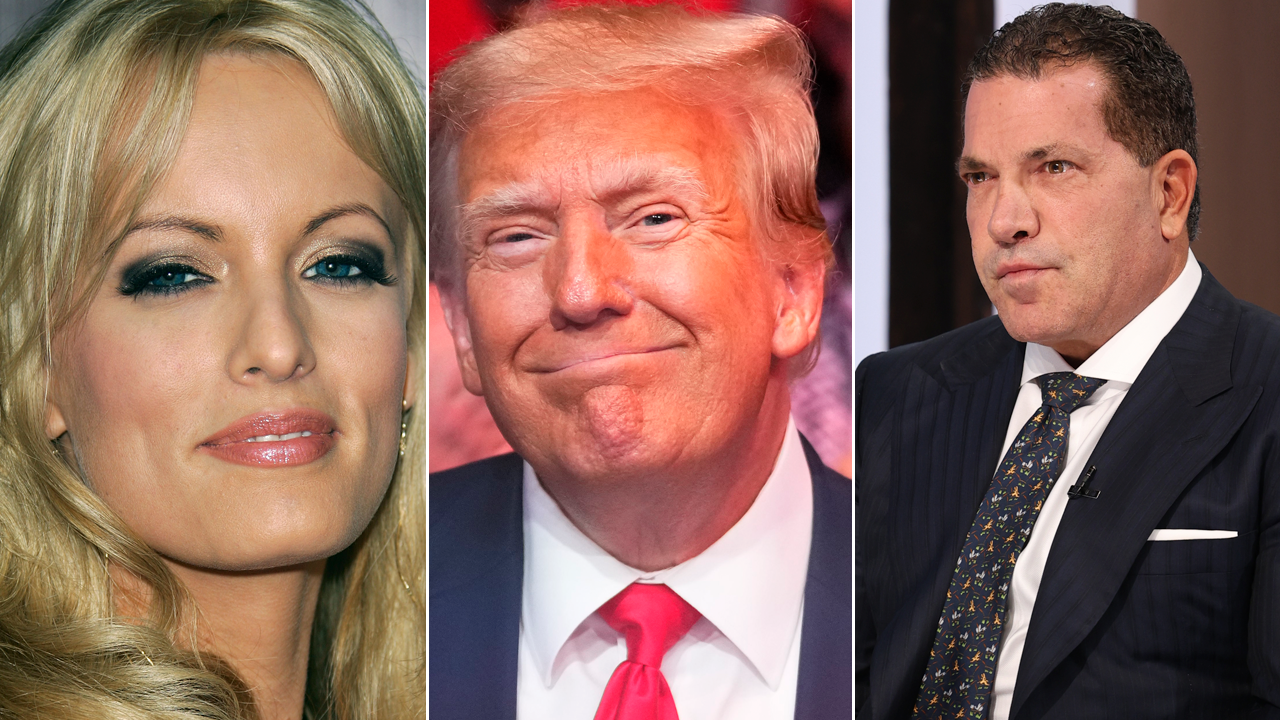 Manhattan District Attorney Alvin Bragg wants to know if former President Trump's principal lawyer has a conflict of interest involving Stormy Daniels through her prior consultation with his firm.
In an April 14 letter to the judge handling Trump's criminal proceeding, Assistant District Attorney Susan Hoffinger requested more information about lawyer Joe Tacopina's previous correspondence with the porn starlet.
Tacopina has acknowledged that Daniels reached out to his firm for possible representation in her long-standing tussle with Trump back in 2018, before she retained media-darling-turned-felon Michael Avenatti.
In a CNN interview that year, host Don Lemon quizzed Tacopina about Daniels' entanglements with Trump given his office's contact with her.
DONALD TRUMP'S NYC CASE MAY BE HEADED IN ONLY ONE DIRECTION, FORMER PROSECUTORS REVEAL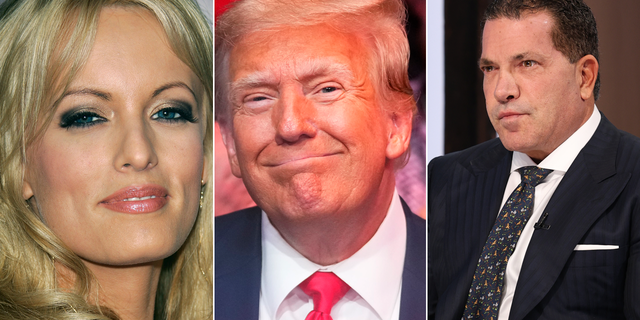 Manhattan DA Alvin Bragg is targeting former President Trump's lawyer Joe Tacopina, right, for removal over his ties to porn star Stormy Daniels, left. (Photo by Evan Agostini/Photo by Jeff Bottari/Zuffa LLC/via Getty Images)
"Did you get any impression that she may have signed an NDA under duress and was she afraid for her physical safety?" Lemon asked, according to Hoffinger's letter.
"Yes, of course, and I can't really talk about my impressions or any conversations we had because there is an attorney-client privilege that attaches even to a consultation," Tacopina responded.
At Trump's arraignment last month, Tacopina denied personally consulting with Daniels and has said flatly that his firm declined to take on her civil case against the former president. 
READ MANHATTAN PROSECUTORS LETTER TO JUDGE MERCHAN QUESTIONING TRUMP LAWYER JOE TACOPINA'S TIES TO STORMY DANIELS
The issue was raised after Daniels' attorney Clark Brewster filed a letter with the court on the eve of Trump's arraignment arguing that Tacopina should be disqualified from the case.
Trump is accused of 34 felony counts of falsifying business records stemming from a $130,000 hush-money payment to the adult film actress.
WHO IS DONALD TRUMP'S LAWYER JOE TACOPINA?
"We refused the case," Tacopina told Manhattan Supreme Court Justice Juan Merchan at Trump's arraignment. "I did not offer her representation. Didn't speak to her. Didn't meet with her. And it is as simple as that."
However, Daniels appeared to reference personal correspondence with Tacopina in her book "Full Disclosure," Manhattan prosecutors noted in their letter.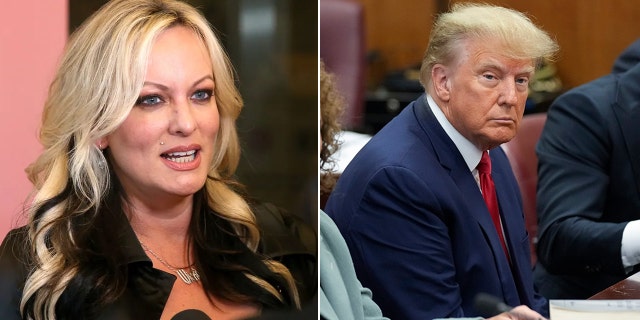 Stormy Daniels, left, says former President Trump's attorney, Joe Tacopina, should be disqualified as his lawyer since she consulted with his law firm. (Phillip Faraone/Getty Images/Photo by Seth Wenig-Pool/Getty Images)
"She writes that before retaining Mr. Avenatti, she spoke with a 'very high-powered lawyer' who seemed to take her call just for the curiosity factor, dragged it out for a couple of weeks and didn't seem to share her passion, so she ended it," the letter states. "She wrote that she was 'anxious that this guy now knew my story and my strategy for confronting Cohen and Trump.'"
Manhattan prosecutors now want Merchan to order Tacopina to turn over all correspondence his firm had with Daniels and to "disclose any steps he has taken to alleviate this potential conflict."
In his own April 12 filing to the court, Tacopina blasted Daniels' letter on the eve of Trump's historic arraignment as an "obvious publicity stunt," noting that the missive, authored by an attorney who is not licensed to practice law in New York, was promptly released to the press.
READ JOE TACOPINA'S LETTER DENYING A CONFLICT OF INTERESTING INVOLVING STORM DANIELS
In her consultation with Tacopina's firm, the subject exclusively focused on whether her non-disclosure agreement with Trump was enforceable, the details of which she has widely discussed in a flurry of media interviews, her own book and civil lawsuits, according to his letter.
TRUMP SLAMS NYAG JAMES' 'RIDICULOUS' CASE, SAYS SHE SHOULD 'FOCUS ON PEOPLE WHO KILL PEOPLE' AS CRIME SPIKES
Trump is accused of falsifying internal business records when he had his former lawyer, Michael Cohen, arrange the $130,000 hush-money payment to Daniels during his 2016 presidential campaign to keep her quiet about an alleged sexual encounter. He has denied the affair.
Trump eventually paid Cohen back a total of $420,000, and Bragg asserts that the payments were improperly categorized as legal expenses and implied the arrangement violated campaign and tax laws.
CLICK TO GET THE FOX NEWS APP
The 2024 Republican presidential candidate has dismissed the case as a manufactured and politically-motivated witch hunt with no legal merit.
Emmett Jones contributed to this report.
Rebecca Rosenberg is a veteran journalist and book author with a focus on crime and criminal justice. Email tips to rebecca.rosenberg@fox.com and @ReRosenberg.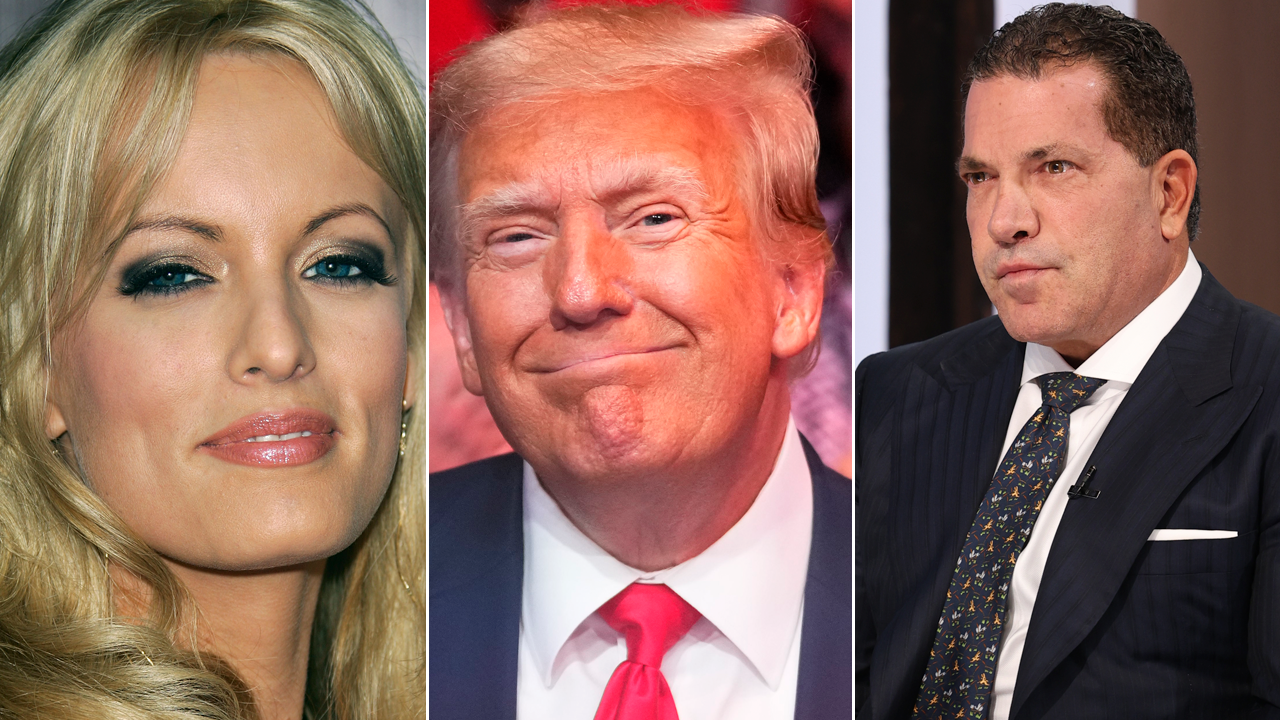 Trump criminal defense attorney in Alvin Bragg crosshairs over possible
Manhattan prosecutors target one of Donald Trump's lawyers, Joe Tacopina, for possible removal over potential conflict of interest involving porn star Stormy Daniels.
If you have any question please CONTACT  Us Email us at:  tim@timroselaw.com Call US :(281) 697-4550
Don't Forget to Visit our Our Services