Tyre Nichols' investigation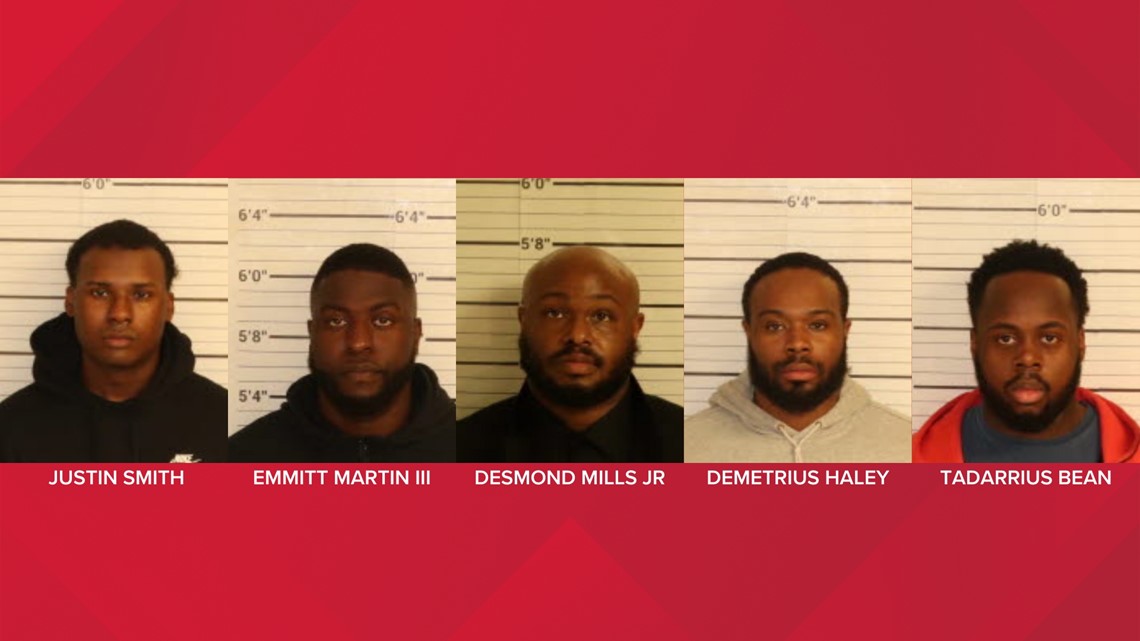 Desmond Mills Jr. is now being represented by Criminal Defense Attorney Blake Ballin and Attorney Bill Massey represents former officer Emmitt Martin.
MEMPHIS, Tenn. — Two of the former Memphis Police officers indicted for their involvement in the incident that led to Tyre Nichols death have retained attorneys. 
Attorney Bill Massey represents former officer Emmitt Martin III, and Desmond Mills Jr. is being represented by Criminal Defense Attorney Blake Ballin. 
During a news conference Thursday afternoon following news of the indictments, Massey said they have not seen the video yet. 
"There is no way, no one out there that night intended Tyre Nichols to die. No one. No one," said Massey. "It's shocking to the officers. I would just imagine police officers have a very difficult and dangerous job, and sometimes a thankless job. And it's probably one of their worst fears that something like this would happen on their watch."
"There is always more to the story and we are always as defense lawyers up against the fact that the state goes first, the state gets out ahead of us and releases the information and start painting defendants in a negative light and so we are always playing catchup," said Ballin.
He continued, "I would just remind each and every person out there watching, listening, to view this with an understanding that there's more to the story, that we will do our own investigation, we will gather information from the state that's not available to the public and when it's time to defend our clients, our side will come out."
Both attorneys said that Martin and Mills will be pleading not guilty. Ballin says the release of footage showing Nichols beating must be handled carefully. 
"From the standpoint of representing Mr. Mills, I don't want there to be any prejudice against him when it comes to a court of law," he said. "As a community member, I understand the need to know what happened."
He also expressed concern over the harsh comments by TBI Director David Rausch regarding the video, calling it "criminal" and "appalling." 
"Saying things like that, when you have a tinderbox (situation) that we're all concerned about, I have questions about whether those were the right words to use," Ballin said. "Whether this was the right timing and whether the government should be saying those things about people who are innocent until proven guilty."
Video to be released Friday
Shelby County District Attorney General Steve Mulroy said Thursday video of the confrontation between Tyre Nichols and Memphis Police will be released by the city after 6 p.m. Friday, Jan. 27, 2023.
Find more of the latest updates HERE.
Five former MPD officers indicted
All five former Memphis Police officers who were fired following Nichols' death have been indicted on charges and booked into the Shelby County Jail.
The officers were fired Friday, Jan. 20, after MPD said they were found to be "directly responsible for the physical abuse of Mr. Nichols."  They were identified as Demetrius Haley, Tadarrius Bean, Emmitt Martin III, Desmond Mills, Jr. and Justin Smith.
Haley, Smith, Bean, Mills, and Martin are each charged with second degree murder, aggravated assault – acting in concert, aggravated kidnapping causing bodily injury, aggravated kidnapping while possessing a weapon, official misconduct thru unauthorized exercising of official power, official misconduct thru failure to perform a duty imposed by law, and official oppression.
Read the full indictment HERE.
The TBI said all five are in custody in the Shelby County Jail. Bond for Haley and Martin is set at $350,000, while bond for Bean, Mills and Smith is set at $250,000.
Ballin and Massey said as of 3:30 p.m. Thursday, all five were in the process of bonding out of jail.
Officer Tadarrius Bean started with MPD in 2020.
Officer Demetrius Haley started with MPD in 2020.
Officer Emmitt Martin III started with MPD in 2018.
Officer Justin Smith started with MPD in 2018.
Officer Desmond Mills Jr. started with MPD in 2017.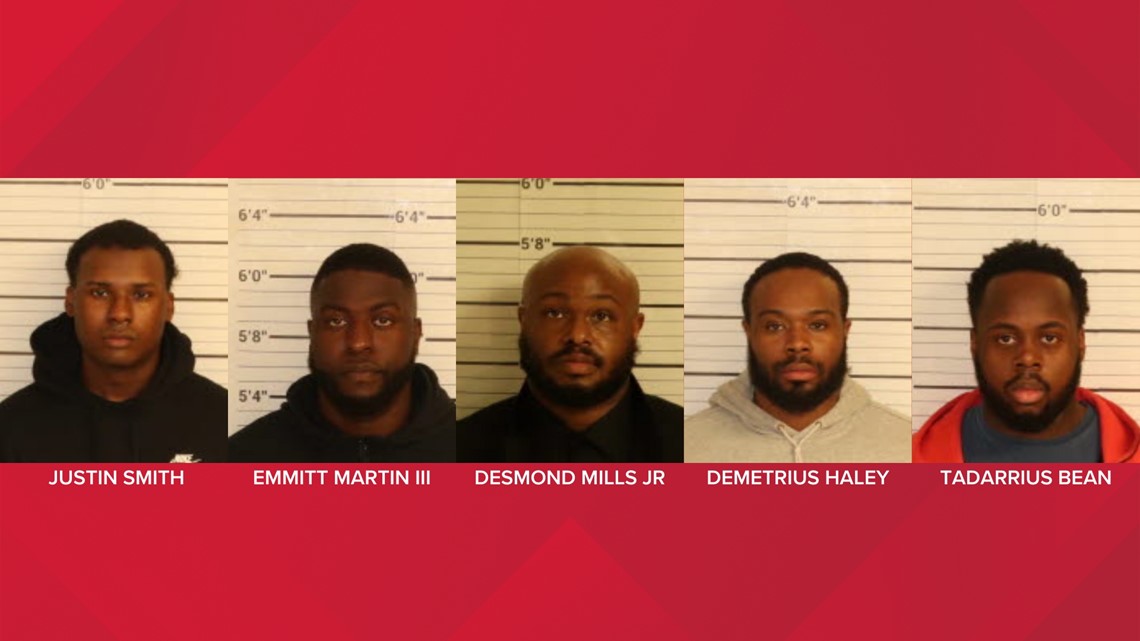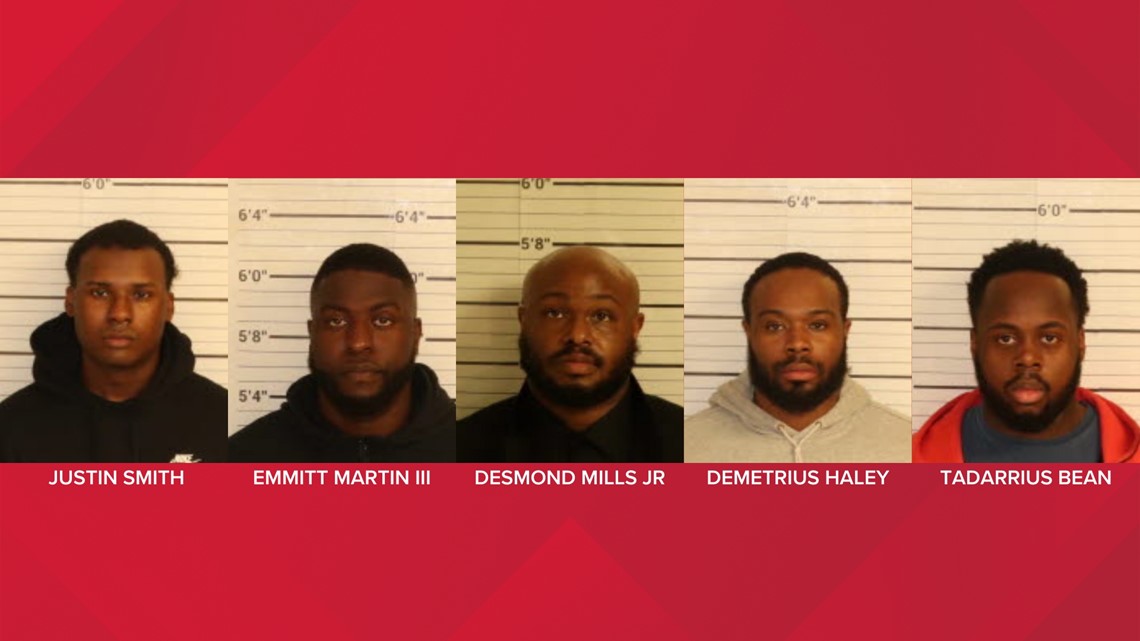 Nichols' family reaction to indictments
Civil Rights Attorney Ben Crump issued the following statement on the indictments  from Nichols' family: 
"The news today from Memphis officials that these five officers are being held criminally accountable for their deadly and brutal actions gives us hope as we continue to push for justice for Tyre. This young man lost his life in a particularly disgusting manner that points to the desperate need for change and reform to ensure this violence stops occurring during low-threat procedures, like in this case, a traffic stop. This tragedy meets the absolute definition of a needless and unnecessary death. Tyre's loved ones' lives were forever changed when he was beaten to death, and we will keep saying his name until justice is served."
Investigation into Nichols' death
MPD Chief C. J. Davis addressed the city for the first time since Nichols' death late Wednesday night, Jan. 25, stating that there would be more legal actions taken against the five officers involved in the deadly "confrontation" in the coming days.
Nichols was taken off of life support and died on January 10, three days after he was taken to the hospital to receive medical attention following what MPD called a "confrontation" that occurred during what was supposed to be a routine traffic stop.
Although bodycam footage of the deadly "confrontation" has not been shared to the public, Nichols' family and Crump viewed the bodycam video Monday, Jan. 23.
MPD Chief C. J. Davis also viewed the video, and she said she was ashamed and unhappy with what she saw. 
Crump said the video showed Nichols being repeatedly beaten for three minutes straight. Antonio Romanucci, a Civil Rights Lawyer who is a part of Crump's team, said the officers beat Nichols "like a human piñata."
Preliminary results of independent autopsy
The legal team requested an independent autopsy, which was completed on January 23. 
The autopsy was performed by the same doctors who completed an independent autopsy on George Floyd, who was tragically murdered in May of 2020 during an encounter with multiple Minneapolis police officers, after one officer kneeled on his neck for more than eight minutes.
Crump and his team issued a statement sharing details from the independent autopsy.
"On January 23, 2023, our legal team had its own independent autopsy performed on the body of Tyre Nichols by a highly regarded, nationally renowned forensic pathologist. We can state that preliminary findings indicate Tyre suffered extensive bleeding caused by a severe beating, and that his observed injuries are consistent with what the family and attorneys witnessed on the video of his fatal encounter with police on January 7, 2023. Further details and findings from this independent report will be disclosed at another time."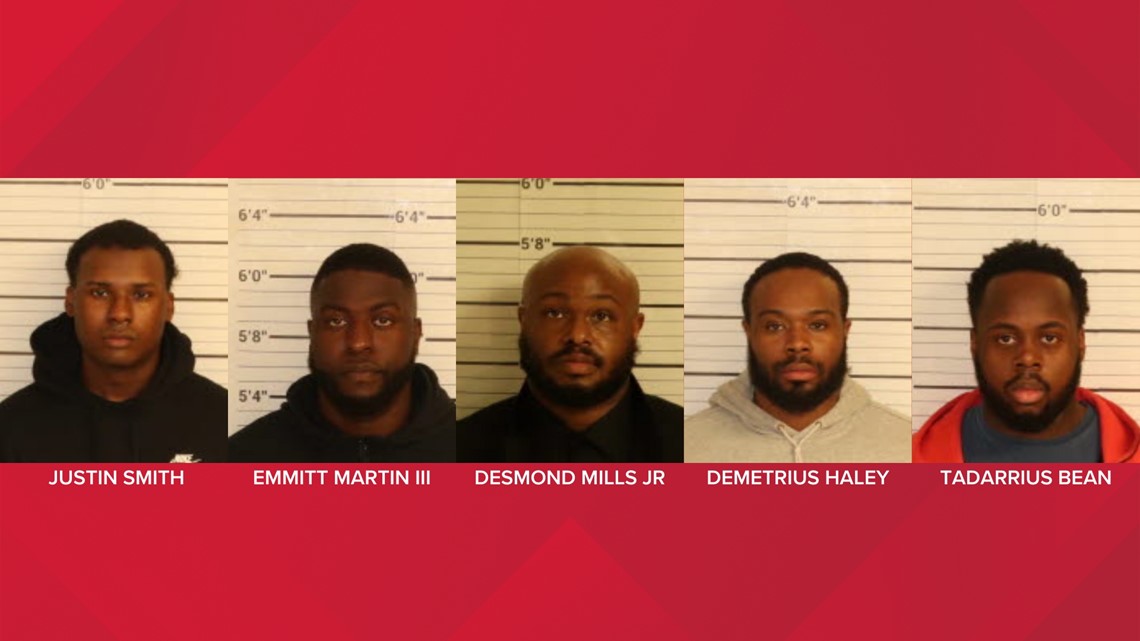 Tyre Nichols' investigation
Former MPD officer Desmond Mills Jr. is now being represented by Criminal Defense Attorney Blake Ballin. Bill Massey represents former officer Emmitt Martin.
If you have any question please CONTACT  Us Email us at:  tim@timroselaw.com Call US :(281) 697-4550
Don't Forget to Visit our Our Services